Sinks
Products Overview:
Built to last for decades of daily use: stainless steel veterinary surgical scrub sinks with welded, hand-polished seams
Approved by the National Sanitation Foundation — our veterinary scrub, fecal and kennel prep sinks are designed with 3/4" radius corners for quick and easy cleanup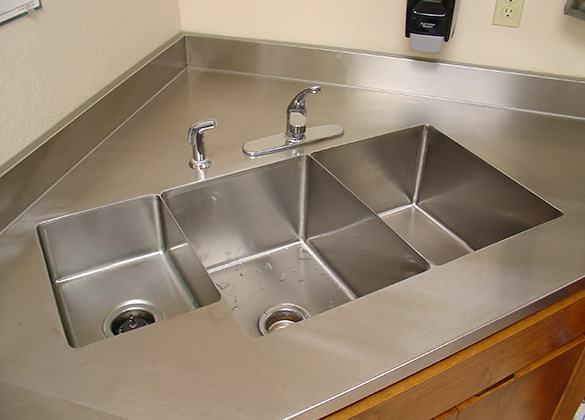 Products
"All are installed and I am very pleased with the quality of the workmanship and the design."
— Dr. G. Bertram
Hand-polished heavy-gauge stainless steel. Welded seams. Radius corners. Custom configurations as needed. Our designers are determined to give you the best veterinary sinks for your practice.
Count on our stainless steel veterinary scrub sinks to withstand years of daily use associated with animal care.
Maximum durability (the heaviest-gauge stainless steel in the industry!): We use 16 gauge type 304 stainless steel to craft our veterinary sinks, backsplashes, counters and other surfaces
Lasting reliability from welded seams (no flimsy silicone seams!)
Stainless steel wall mounting bracket included
Customize with one of our high-quality veterinary faucet configurations (sold separately)
Available in custom sizes — let us know what you need!
Check out our options here to see how we can fit your needs, and then…
Contact us now for a free personal consultation at 877.459.7827 or sales@tristarvet.com.