Exam
Products Overview:
Stainless steel veterinary exam tables fold up for storage with ease. And that's just the beginning.
Don't let our simple veterinary table designs fool you: we included exclusive user benefits underneath the surface.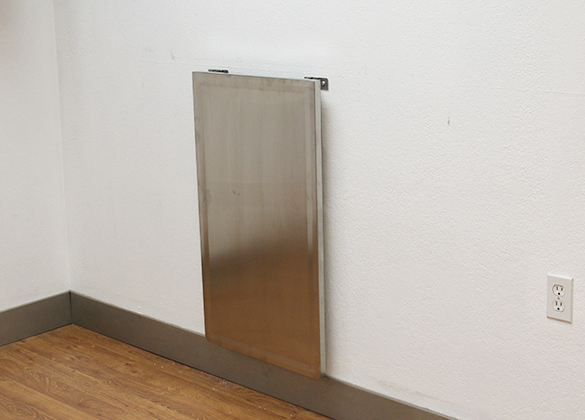 When you look closely at our wall-mount veterinary exam table designs, you'll find extras that make them the best choice for your busy practice.
What's the big deal with our wall-mount veterinary tables? First, we start with an 18-gauge stainless steel top, the heaviest gauge in the industry. This means your table will never warp under pressure, even with heavy patients and after decades of use.
In addition, each table includes a marine edge to contain spills on the work surface, for the safety of your staff and clients. And, all our TriStar Vet wall-mount exam tables quickly and easily fold up to use and fold down to store, thanks to a smooth tension release trigger system. This gives you complete flexibility in any exam room setting.
Explore our three wall-mount veterinary exam table styles:
Need something different for your exam rooms? Custom sizes are also available.
Contact us now for a free personal consultation at 877.459.7827 or sales@tristarvet.com.