Transport/Lift
Products Overview:
Imagine — veterinary tables that protect your staff as they  transport and lift patients
TriStar Vet tables help you effortlessly and safely lift and support even the largest dogs, using restraint rails and other important features.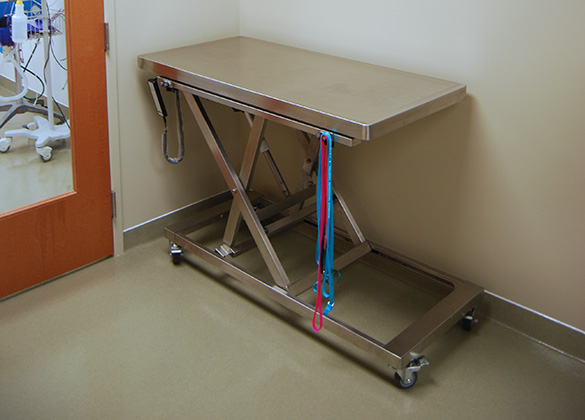 Products
When it comes to mobile veterinary tables, our engineers know that stability, controlled movement and secure restraint are critically important.
That's because we've worked closely with practices to fully understand your needs… and develop transport and mobile lift table features you can count on for many years.
Ultimate stability, built with all-welded, heavy-duty 16-gauge stainless steel tubing and base
Locking casters prevent unwanted movement at all times
Adjustable tie-down cleats give you the flexibility to transport all patients*
An optional two-hook IV pole makes it easy to transport even the most critical patients
Best of all, our tables can be ordered in custom sizes
Take a closer look:
Need help deciding?
Contact us for custom design assistance at 877.459.7827 or sales@tristarvet.com.
* Maximum lift capacity is 225 pounds.