Wet
Products Overview:
Wet prep and treatment options like nothing else in the veterinary equipment and supplies industry
Practices rave about the way our easy-clean Water-Flo tables, pass-through shelf-and-drawer system and concealed wires and water lines support safe, efficient procedures.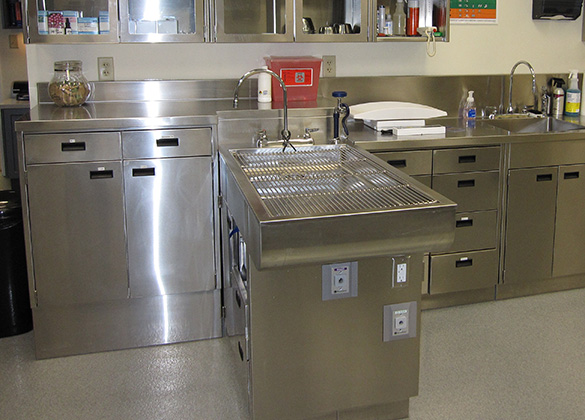 Products
If you're looking for the best veterinary dental supply options (or any veterinary exam room/treatment equipment), you'll be amazed at the safe, efficient designs of our patented Water-Flo wet tables and pass-through cabinets in sanitary, lasting stainless steel.
TriStar Vet takes veterinary treatment equipment VERY seriously. We've spent years engineering and fine-tuning treatment systems that top all others when it comes to reducing prep and cleanup time while increasing safety. Consider what this means to you.
With our patented Water-Flo veterinary treatment options, just rinse away patient materials in seconds for a more sanitary environment between procedures.
And, whether you choose a Water-Flo or Non Water-Flo system, your treatment setup will include our popular Pass-Thru Dental Shelf and Drawer System that eliminates storage shortages and tangled wires. Everything you and your technicians need are within reach at all times, while lines are concealed away from your work areas.
We also offer a Hydraulic Wet Lift veterinary treatment system as another option.
TriStar Vet's wet-prep veterinary treatment equipment and supplies are designed for a lifetime of durability, built with the heaviest-gauge stainless steel in the industry. Custom sizes are available.
To configure the best wet prep and treatment options for your practice…
Contact us now for a free personal consultation at 877.459.7827 or sales@tristarvet.com.