The idea for the metal wood grain cabinet hit us like a bolt of lightning. Metal and all of its properties are absolutely ideal for veterinary practice applications. We all know how much cleaning goes on in a veterinary office and all of the infectious diseases that can spread if not disinfected properly.
While metal is durable, sanitary and has the ability to outlast most practices, some clients in examination rooms may see it as "cold". For this reason, a lot of doctors choose laminate exam tables and casework. Laminate accomplishes the goal of adding warmth to the room, but it's challenging to disinfect it well and often without it warping and chipping. A great deal of our business is customers who are upgrading from their laminate to stainless, because the laminate just hasn't held up over time.
Taking all of these factors into consideration we set out to answer one question: How can we provide TriStar customers with one product that is durable, cleanable and warm? Lightning bolt moment! We envisioned a metal cabinet and casework that would look like wood grain. After some thought and good old fashioned engineering we had created a metal cabinet that looked just like wood. You have to tap it to believe that you are not looking at real wood.  You get all the warmth of wood and all the benefits of metal. We still have our unique options available such as pass thru drawers that open from either side of the cabinet and removable pans that pull completely out of the drawer making cleanup easy. (Removable pans are also great to quickly carry instruments to other parts of the hospital by just grabbing the pan and makes restocking the cabinet a breeze.)
This metal wood grain creation is a great example of how we strive to give more value for your dollar.  It's been fun to see the reactions at tradeshows and the feedback from doctors and architects has been overwhelmingly positive. We've even seen a few spies taking pictures of it at our tradeshow booths so it may be a matter of time until it's available with other manufacturers, but for now it's just ours, the original, like the Oreo or Dublin Dr. Pepper. We feel like this product is really the design of the future and we're proud to bring it to you.  Currently we can offer this metal wood grain in wet prep tables, casework and cabinets. Soon we'll also feature cat condos and a number of other products as well. If you've got a product in mind that you've just not been able to find anywhere, give us a call. We'd love to bring your creation to life!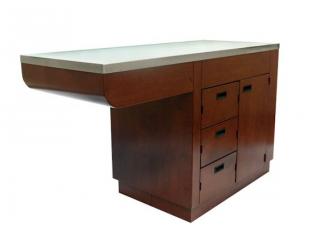 Request A Catalog
Our popular catalog includes product photos, descriptions, specifications, accessories, and optional features, plus company information, ordering information and more.
Download
or
Request Your Free Catalog!
Animal care equipment designed with unique features that make life easier.
Veterinarians across the U.S. and Canada recommend our highly durable stainless steel equipment to their colleagues. Why? Because our veterinary tables, dog kennel designs, professional dog grooming supplies and other tools provide convenient, ergonomic benefits you can't find anywhere else.
We look at conventional veterinary equipment and ask, "How can we make it better with easier-to-clean, easier-on-your back modifications?" Then we invent unique solutions. Our customers tell us, "It's the most functional and easy-to-use veterinary equipment anywhere." That's the difference when you buy from TriStar Vet."
Press Esc to close
Get a Quote