TriStar Vet is the only veterinary equipment manufacturer that offers pass-thru drawers in its many cabinet styles, and our customers tell us they love this feature!
Why did we decide to offer pass-thru drawers? Who needs this feature? And why is it a popular choice among practices building new clinics, renovating current spaces or adding on treatment rooms?
Let's find out why our TriStar Vet engineers invented pass-thru drawers, and why they may be the perfect option for your veterinary practice.
Back in the mid 2000s, we had a customer in California who wanted us to build him a work-island/wet treatment area where he and his team could access the drawers from both sides to get instruments etc. out of the cabinets. He was frustrated that veterinary cabinets didn't offer this option, because he constantly saw the inconvenience of his team having to get out of each other's way while working with patients. It was simply a pain to have drawers open on just one side.
So we decided we'd find some pass-thru drawer slides that would work with our stainless steel veterinary cabinets and work islands — so all the drawers were easily accessible from all sides.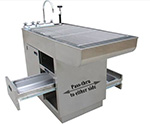 We designed the drawer slides with special notches and other unique construction features that support pass-thru drawers on any of our cabinets and islands, with the same smooth-slide performance you'd expect from all our equipment. Our customer chose this option for his wet-prep cabinets and center island and was quite happy that we went the extra mile for him.
He's not the only practice owner who appreciates the pass-thru feature.
Today, when we work with practice owners and contractors, they want that feature the moment they see it. It's very practical and ergonomic, helping veterinary teams work more smoothly around p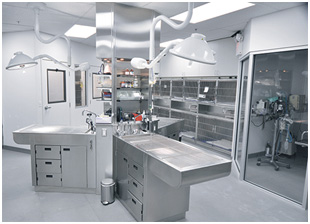 atients and equipment.
If you're considering a renovation or new-construction project, consider how pass-thru drawers can enhance your workflow.
We'll be happy to discuss this option with you. Contact us for assistance at 877.459.7827 or sales@directanimal.com.
Other Questions? Comments? Please add a comment below. Thank you.
Request A Catalog
Our popular catalog includes product photos, descriptions, specifications, accessories, and optional features, plus company information, ordering information and more.
Download
or
Request Your Free Catalog!
Animal care equipment designed with unique features that make life easier.
Veterinarians across the U.S. and Canada recommend our highly durable stainless steel equipment to their colleagues. Why? Because our veterinary tables, dog kennel designs, professional dog grooming supplies and other tools provide convenient, ergonomic benefits you can't find anywhere else.
We look at conventional veterinary equipment and ask, "How can we make it better with easier-to-clean, easier-on-your back modifications?" Then we invent unique solutions. Our customers tell us, "It's the most functional and easy-to-use veterinary equipment anywhere." That's the difference when you buy from TriStar Vet."
Press Esc to close
Get a Quote