Every veterinary clinic needs a lift table. It serves a multitude of purposes; exam, transport and occasionally it can be used as a veterinary surgery table.
Several factors determine which table is right for you. We ask a lot of questions from the veterinarians we talk to and some of their must-haves include,
how low to the ground does the table go?
how much weight can it hold?
the size of the table top is also key.
We feel we've addressed all of these concerns and come up with additional benefits and features as well.
Our veterinary lift table is made of heavy duty, 16 gauge type 304 stainless steel. (the lower the gauge the more heavy duty the material, so 16 is heavier than 18 and so on).
304 is a type of stainless required in commercial food preparation because it's incredibly sterile and has the ability to handle acidity from foods as well as have salmonella and blood dripped onto it without the bacteria seeping into the surface so it is an ideal stainless for veterinary procedures.
the table top has a fluid retaining edge
lowers to 11 ½" inches and elevates to 36" at its highest position
features double scissor construction providing durability and maximum stability
lifts up to 225 pounds
with a fully chrageable battery.
Our veterinary electric mobile lift table comes in 2 sizes, a 50" and 58" long and custom sizes are available upon request as well as custom features such as scale, etc. If you can think it up, we can design it for you.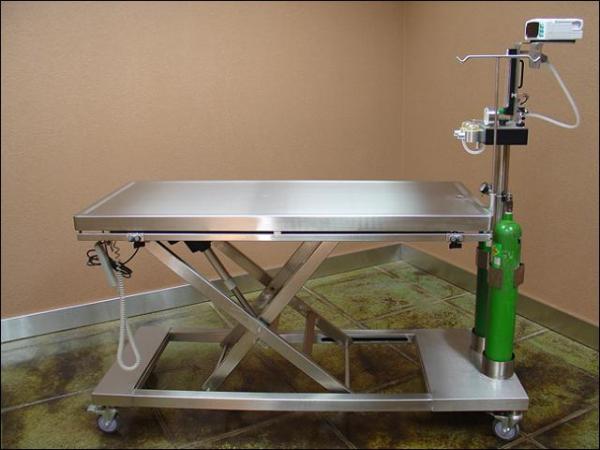 Request A Catalog
Our popular catalog includes product photos, descriptions, specifications, accessories, and optional features, plus company information, ordering information and more.
Download
or
Request Your Free Catalog!
Animal care equipment designed with unique features that make life easier.
Veterinarians across the U.S. and Canada recommend our highly durable stainless steel equipment to their colleagues. Why? Because our veterinary tables, dog kennel designs, professional dog grooming supplies and other tools provide convenient, ergonomic benefits you can't find anywhere else.
We look at conventional veterinary equipment and ask, "How can we make it better with easier-to-clean, easier-on-your back modifications?" Then we invent unique solutions. Our customers tell us, "It's the most functional and easy-to-use veterinary equipment anywhere." That's the difference when you buy from TriStar Vet."
Press Esc to close
Get a Quote