We have three questions for you.
How many times a day you have to stop and clean off your treatment tables? (We're guessing several times a day.)
How much does your team enjoy cleaning off gunk following a procedure? (Probably not at all!)
Wouldn't it be great to eliminate most of the time and elbow grease it takes to keep your treatment surfaces nice and clean? (Ooh, sounds good.)
Our TriStar Vet team can answer the last one for you, thanks to our patented Water-Flo veterinary treatment table.
After visiting many different veterinary practices across the country, we discovered a common problem: veterinary teams were spending too much time and energy on cleaning treatment areas after each procedure or case. Literally 5-10 minutes each time — and over the course of a week this can really add up. This is time that could be available to treat more patients!

That's why we went back to our manufacturing facility and invented our patented TriStar Vet Water-Flo veterinary table.
After you're done with a procedure, simply turn the faucet to set the Water-Flo system into motion. It instantly rinses blood and other matter off the surface on your treatment or dental surface and down the drain — as this YouTube video demonstrates — before anything has a chance to dry and get stuck.
In addition to this quick and sanitary rinsing system, our Water-Flo tables offer you the conveniences of pass-thru drawers, pullout writing shelves and removable inner panels and doors that provide easy access to wiring and plumbing. This makes it a complete one-stop treatment dream for your team! (The photo here shows you our 1-door, 3-drawer configuration with pass-thru drawers.)
Also it's important to note that our Water-Flo tables are made of heavy-gauge stainless steel, with hand-welded and hand-polished seams that stay put for years and years. It's the most sanitary surface you can imagine.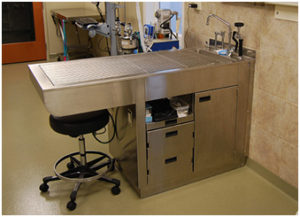 We often hear that once a veterinary team sees the Water-Flo table in action, they want one (or more) for their practices. But they also have space restrictions in their existing facilities.
That's why we've developed six different veterinary sink and cabinet options to fit perfectly into your treatment area:
1 Door/3 Drawer
2 Door
2 Door/3 Drawer Pass-Thru
3 Drawer-Open Center
3 Drawer-Added Knee
Drop-in Top
Visit our TriStar Vet Water-Flo veterinary table web page to learn more.
If you need help choosing the ideal Water-Flo table for your practice… contact us for assistance at 877.459.7827 or sales@tristarvet.com.
Other Questions? Comments? Please add a comment below. Thank you.