If your veterinary practice is looking to make some nice revenue from boarding, daycare and/or dog grooming services this summer — we'd like to help you. After all, we talk with practices all the time to create successful dog kennel designs, and we've seen some awesome ideas for boosting bookings.
Summer's a great time to offer incentives and extras that will make local pet parents choose you for boarding and grooming.
Here are some ideas to help you showcase your veterinary boarding services and equipment, so local pet owners know why you're the best choice this summer.
Many pet owners appreciate boarding their pets at a veterinary practice, because they know their pets are in very capable, professional care.
So we have a question for you: Do all your clients KNOW that you offer boarding, daycare and/or grooming services? The first tip to fill up your schedule this summer is this:
Promote these services to all your current clients.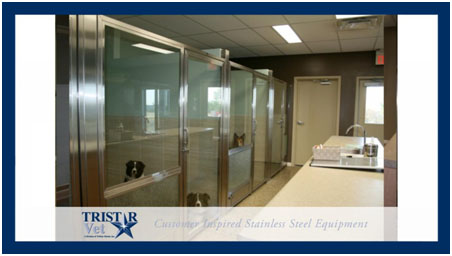 You may be shocked to realize that many of your clients have no idea you even offer boarding or grooming services. They come in for vaccinations, skin problems and other issues, pay their bill, and leave. It's very common for practices to overlook this golden moment to promote other services.
But you can do a LOT to bring in more business from existing clients, the low-hanging fruit.
Email all clients with a big announcement about boarding or grooming services. Perhaps a "Did you know… ?" type message. Also post a big sign somewhere in the lobby, on the reception desk, in exam rooms and even outside the practice, where it can be seen not only by visiting clients but also passing traffic. Get the word out in any way you can!
Offer specials such as "Stay 3 Nights, Get 1 Free"… or "Buy 5 Baths, Get 1 Free." Make sure your prices are in line with local competition, and then give clients a little extra incentive for sticking with YOU. Reward them for their loyalty with a free extra visit as a thank-you for doing business with you.
Offer "Boarding + Wellness" or "Boarding + Dental" packages.
This is an excellent way to bump up the value for clients – and the per-visit invoices for you. Suggest to clients that it would be very convenient and ideal to schedule wellness checks, dental cleanings, spay/neuter, laser therapy, baths and more during the boarding or grooming visit. Clients could drop off their dogs and get several services done while they're away. This is especially appealing for procedures that require recovery time.
Showcase any new equipment, kennel renovations, and/or outdoor play areas you may have.
If you've just added or upgraded your cages, kennels, drains, easy walk-in grooming tubs, etc. — let your clients know! They'll appreciate the investment you've made in offering the best quality experience in town. In fact, it's rare for a practice to actually show clients the "back area…" but if you give them a tour to show how your boarding, day care or grooming area is cheery, modern and sanitary, they'll be impressed.
If it's time to expand or upgrade your equipment, get inspired by browsing through our dog kennel photo gallery featuring images of facilities using TriStar Vet equipment, with features such as frosted glass for privacy; swivel bowl feeders that make it safe and easy to feed pets without handling them; beautiful yet durable Starlite panel colors; and many other unique innovations.
These are just a few ways to get the word out and set yourself apart so you're booked solid this summer and beyond.
If you'd like to discuss an equipment upgrade now… contact us for assistance at 877.459.7827 or sales@tristarvet.com.
Other thoughts? Please add a comment below. Thank you.