Ritch Batterton here from TriStar Vet. Back in July 2,2001, we filed a patent on our new design to help dog groomers and veterinary teams save their backs while washing dogs of all sizes. Our team invented an ergonomic swivel ramp that can be set up to rotate from the right or the left, and help you ease dogs into the tub without heavy lifting of any kind.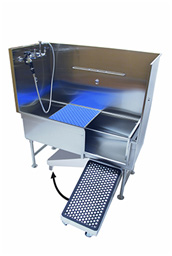 Our patented model #800 dog bath tubs with swivel ramp (U.S. PATENT # 6,516,752) represents a first in the veterinary industry… and as we celebrate the "lucky 13" anniversary of this helpful equipment in July, we thought you'd be interested in seeing the patent details. It's kind of fascinating if I do say so myself!
Our patent is officially worded as a "Veterinary bathing station with rotating ingress/egress ramp." What does that mean exactly?
First, the official patent abstract explains it this way, in formal language:
"A veterinary bathing station for washing animals is shown which includes a stall having a bottom wall and enclosing sidewalls. One of the sidewalls has a door opening for ingress and egress of an animal to be bathed or groomed. A ramp is connected to the stall bottom wall by a rotatable coupling and can be rotated between a retracted and extended positions which allow the ramp to easily rotate in and out of the open space created under the bottom wall of the washing stall to thereby allow the animal ingress and egress through the wall opening."
Now let's explain what this all means to you and your busy staff.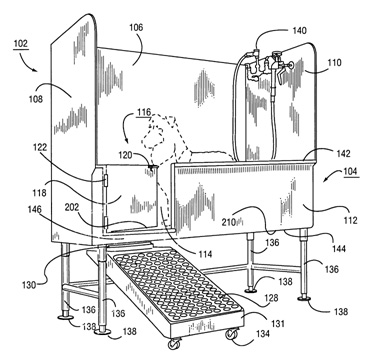 Usually when a dog is about to be bathed, someone on your team needs to lift the dog into the tub. As noted in our patent, "Back strains or other injuries can occur if the animal is heavier than expected or if the animal begins to squirm or to resist being lifted." Imagine how this can affect your staff — over and over, day after day — with large dogs, wiggly dogs, frightened dogs and so forth.
We knew there must be a better way.
We knew we could help reduce the risk of injury and make dog grooming bath tubs more comfortable and convenient for all involved.
That's why we invented a high-walled tub with a generously sized door opening and a swivel ramp entry. The diagram shown here demonstrates how we incorporated numerous design features to make this work.
In our patent documentation, we explained how each component works:
"The above objectives are achieved by providing a veterinary bathing station including a washing stall having a bottom wall and surrounding side walls, at least one of the surrounding side walls having an opening of sufficient size to allow an animal to pass through.
A plurality of leg elements are provided for elevating the bottom wall of the washing stall above a surrounding support surface a selected distance, wherein an open space is created between the bottom wall and the surrounding support surface.
The stall also includes a ramp having an inclined ramp surface defined between a top end and a bottom end of the ramp for allowing ingress and egress of an animal from the surrounding support surface through the wall opening without the necessity of lifting the animal.
A rotatable coupling attaches the top end of the ramp to the bottom wall of the washing stall, whereby the ramp is rotatable about a vertical axis between a retracted position and an extended position into and out of the open space created under the bottom wall of the stall.
The extended position serves to align the ramp with the wall opening to thereby allow the animal ingress and egress through the wall opening."
What a mouthful! You can see we used a lot of creativity and veterinary practice insight to develop this equipment.
In essence, we designed our patented #800 dog bath tubs with swivel ramp to save your back and make you happy. Plus we made sure you could have a dog grooming tub that works in your specific facility. You can choose from two different plumbing setups and two ramp orientations (left and right).
If you'd like to see this tub in action, give us a call at 877-459-7827 or email us at sales@tristarvet.com
Questions? Comments? Please add a comment below. Thank you.