The best veterinarian kennel drainage system is one that allows the waste fluids to fully drain out of the kennel, allowing the animals to stay clean and comfortable. At TriStar Vet, we've designed a durable, fully welded kennel drainage system that keeps kennels clean and dry, and can be easily installed by your plumber.
The problem with traditional kennel drainage systems
The design team at TriStar Vet visits boarding kennels and veterinary hospitals to explore how we can make things run more smoothly with our durable veterinary equipment. One problem we consistently encounter is the strong smell of urine in the kennel area. It's typically caused by using regular commercial trench drains with recessed grates. These aren't designed specifically for veterinary practices, and so there are a number of problems associated with them.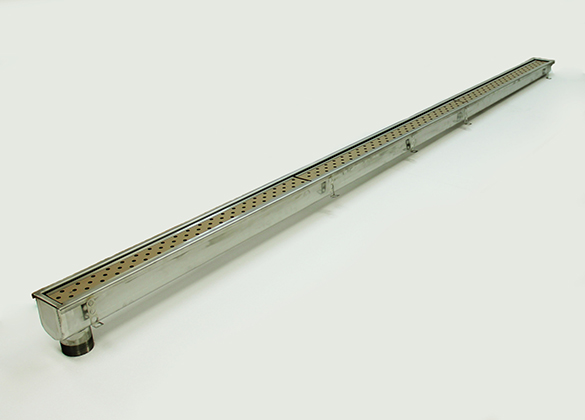 Most of these trench drains are comprised of joined-together sections of plastic materials. Over time, the separate sections shift, causing leaks. Some practices try to fix this problem by using plastic covers, which only creates a bigger problem by trapping fur and feces.
Clearly, this situation is not sanitary for the animals or the staff. So the design team at TriStar Vet began developing a better solution for kennel drainage.
Why TriStar Vet's kennel drainage system is the best solution
Our design team started with industrial strength 14-gauge stainless steel, designing the entire trench drain as a solid piece with no disjointed parts. This eliminates the potential for shifting, which would cause gaps between the pieces. TriStar Vet's system is a one-piece, fully welded trench drain that's easy to install and attaches directly to the wall. It features a 1/8th per foot slope, allowing urine and wash water to readily drain down.
TriStar Vet also offers two types of grates to suit the needs of any practice. Got a center drain in your back-to-back kennel run? No problem! Ask about our custom-designed drainage system for center drains.
TriStar Vet is a leading manufacturer of durable, ergonomic, and sanitary equipment for veterinary practices, animal control facilities, luxury boarding facilities, and animal shelters. If you have any questions about our veterinary trench drains, please give our team a call at 877.459.7827. You can also send us an email at sales@tristarvet.com.