Each year, the AVMA designates February as National Pet Dental Health Month to boost pet-owner awareness about the critical need for professional oral care visits. This year (as always), they have web resources to help you with client education.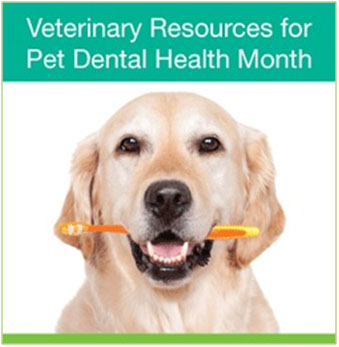 It's fine that dental health gets a big boost in February. But as one of the industry's top manufacturers of veterinary dental equipment — we also know that promoting pet dental health to your clients is a year-round effort. It requires persistent client education and encouragement to promote regular oral exams, dental cleanings, prevention through brushing and other methods, and early treatment to avoid serious health problems.
So, how do you make sure local pet owners know that a) dental care is mandatory for the best health possible… and b) you're the #1 choice for their pets' dental and oral care?
To support your success and bring in more visits, TriStar Vet presents "5 Veterinary Dental Tips to Improve Pet Health All Year"
There's a good chance that you have local competition when pet owners are learning about dental diseases and considering an oral care visit.
So how do you stand out and get the attention of local pet owners?
Here are five ways you can give local pet parents strong reasons to choose you.
Educate! Educate! Educate!: Provide helpful tips and alerts that demonstrate the NEED for regular dental/oral care, especially in pets over three years of age. As we mentioned, the AVMA offers practices a wealth of information to education clients, including a recipe for oral health. In addition, several product manufacturers offer tools for education, including the Virbac® video on "How to Brush Your Dog's Teeth." Teach them how to use preventative measures such as oral washes, treats, chews and brushing… and how to look for signs of a problem (bad breath, bleeding gums, etc.)
Strengthen your personal connections: Make sure all your clients know about your awesome dental-health team! Create a page on your website that's all about your team's exceptional skills and experience when it comes to dental care. Plus, introduce clients to your staff via emails, enewsletters, web pages and blog posts. Perhaps have each staff member talk about the reasons they urge all pet owners to schedule dental cleanings. Maybe share oral patient before/after stories (with permission), such as, "How our team saved Fluffy's teeth and her liver."
Be the "go beyond" team: While making the case for dental visits, also reassure pet owners that your team goes the extra mile to perform gentle, fear-free procedures (assuming you do). Let them know why pre-anesthetic testing is required in your practice so you can rule out or detect any hidden problems before scheduling a procedure. (We assume you do pre-anesthetic testing as part of the your oral-care workup.)
Enlighten them about your modern equipment: Again, on your web page, e-newsletters and social media, etc. tell clients about your modern best-in-class equipment and what that means to the pets in your care. For instance, you might say, "Our TriStar Water-Flo® veterinary dental table provides a more sanitary environment for your pet because it allows quick rinsing between each dental procedure with a simple faucet turn. Most other tables have to be scrubbed down each time, which may or may not be as sanitary."
Extra incentives to book an appointment NOW: Boost your clients' interest in booking an appointment by giving them a special price for February National Pet Dental Health Month and at other times throughout the year. Or perhaps you can always provide a dental-care discount as part of your new-client referral program or Adopt-a-pet promotion for a local shelter (if they adopt a pet from the shelter and come to you for care, the pet gets a oral exam and/or dental cleaning at a discount).
With oral disease being one of the most preventable diseases in pets, we hope you continue to grow your dental business with help from these tips.
Let us know what you think, or if you have questions about our veterinary dental equipment.
If you need help choosing a Water-Flo table for your practice… contact us for assistance at 877.459.7827 or sales@tristarvet.com.
Other Questions? Comments? Please add a comment below. Thank you.