About 18 months ago, we posted a blog entry that explained how a three-month lead-time is the general rule of thumb when working with your contractor to specify and order veterinary work centers, cabinets, kennels, and other equipment.
We mentioned that practice owners and architects have been surprised by the length of time it can take from design to completion when building or renovating a practice… and sometimes this can be a cause of frustration.
The great news is — today our lead-time is typically shorter than three months for most veterinary medical equipment and supplies. Now our team can accommodate most production schedules. See what this means to you.
No one likes to be caught in a situation where a practice design has been specified, but the call comes in too late to order wet tables, kennels, cages, wall-mount tables, dog grooming tubs, work islands and other critical equipment… and so the project is delayed, or preferences have to be sacrificed.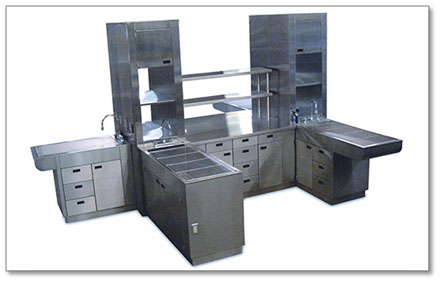 We hate to see that happen, too.
So to make sure we're always able meet the demand, on schedule — we've been spent the last 18 months focusing on improving our manufacturing efficiencies.
That's the beauty of being veterinary medical equipment manufacturers who work together in a small, efficient operation in Texas. Our design engineers, sales team, and construction staff have come to the table to see how we can shorten our lead times.
You may be surprised and delighted to know that:
Our small staff of 35 employees is able to remain flexible, inventive, lean and responsive.
Together we've made a commitment to solve "lead time frustration" by reworking our production methods.
At the time same time, we have NOT WAVERED on our quality. For instance, we still hand-weld and hand-polish the corners of our stainless steel equipment, so they will not warp, sag, separate or become misaligned.
Even though we've become more efficient, we're constantly looking at ways to bring you innovative features for safety, convenience and expediency… giving you benefits you can't find anywhere else. For instance, our patented swivel ramp dog tub saves your back because you never have to bend or stoop to get heavy dogs into the bath. And, we're the only veterinary equipment manufacturer to offer a kennel door rotating bowl feeder that rotates 360 degrees on the door so your team can easily and safely replenish food and water.
Ready to discuss your veterinary medical equipment needs? Let's talk.
Based on the unique nature of each veterinary practice design-build project, we're unable to give you exact lead times until we speak with you. But you can rest assured that we'll do everything to meet your production schedule. Definitely quicker than three months!
To get started, give us a call at 877-459-7827 or email us at sales@tristarvet.com.
Other thoughts? Please add a comment below. Thank you.