Just the other day, we wrote a post congratulating our client, Mueller Pet Medical Center in Sacramento, California, for their well-deserved 2014 Veterinary Economics Hospital Design Award.
We were thrilled because hospital owner Dr. Ken Schenck mentioned that he used several TriStar Vet products in his design, including our veterinary wet tables with patented WaterFlo system as well as our work islands (towers) that cleverly hide water and electric cables while providing ample storage.
Mueller Pet Medical Center also installed TriStar Vet dog kennels and runs. Here's what they had to say about this essential equipment.
Mueller Pet Medical Center is one of the Sacramento area's finest veterinary hospitals and it offers much more than pet health care. They offer dog boarding, daycare, grooming and cat lodging.
When they designed their "Pet Inn" lodging facilities, they chose TriStar Vet equipment.
Owner Dr. Ken Schenck explained why.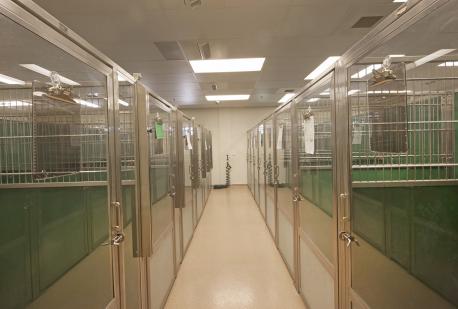 "I love TriStar Dog Runs. The welds are great and the heavy plastic wall panels are not only beautiful but durable. I love the glass doors. And the clouded glass (rain) lower sections on the front doors are elegant looking and provide privacy.
We used a combination of 4′ by 8′ and 3′ by 5′ units in lodging. Combining guillotine doors and removable side panels really adds to the flexibility. We used the TriStar stainless steel rod door system in the veterinary hospital."
Dr. Ken Schenck and his team were a joy to work with, and we're very proud and glad they chose our dog kennels and runs for their quality Pet Inn services. We know their equipment will last for decades… even with daily wear from rambunctious animals of all sizes.
If you're about to build a new dog boarding/kennel area in your practice, consider the advantages of working with TriStar Vet:
All our veterinary dog kennel designs are built for maximum durability with 1-¼" stainless steel square tube frames (compared to the 1" industry standard)
There's no bottom door rail to trip over or trap urine, feces, fur or dirt
Doors swing both ways, with one-handed door operation that's a godsend when you're working with excited dogs
No rattling doors! We build our grill doors with ¼" stainless rods passing through a 14-gauge stainless band and tack-welded to prevent rattling
Finally, all our dog kennel designs are customizable to fit perfectly within your space
To discuss your dog kennel design needs, contact the TriStar Vet team at 877.459.7827 or sales@tristarvet.com.
Or you can leave a comment below. Thank you.